Tree Services Medford Oregon
Welcome to Medford Oregon's best tree service company. We are a family-owned and operated business that has been serving the Medford area for over a decade. We offer a wide range of tree services, including tree removal, stump grinding, tree trimming, and more. We are dedicated to providing our customers with the highest quality service possible.
We have a team of experienced and certified arborists who are dedicated to providing you with the best possible service. We use the latest equipment and techniques to ensure that your trees are properly taken care of. We also offer a free consultation so that you can get an estimate of what it will cost to have your trees taken care of by us.
If you're looking for a tree service company in Medford, Oregon, that can provide you with the best possible service, look no further than us. Contact us today to schedule a free consultation.
From trimming trees to removing dead branches and stumps, the right tree services can make all the difference in how a home or business looks as well as in its safety. Whether you're just looking for some casual pruning or you have more serious concerns that require professional attention, our tree service company in Medford Oregon ready to help.
No matter what kind of problem you may be facing with your trees, having the right professionals on hand to take care of them is essential. Our tree service company provides comprehensive solutions from planting new trees to large-scale removal projects.
With years of experience and expertise under our belts we know exactly how to handle any issue related to trees. Not only will we keep your property looking great but also ensure that everything is done safely and efficiently.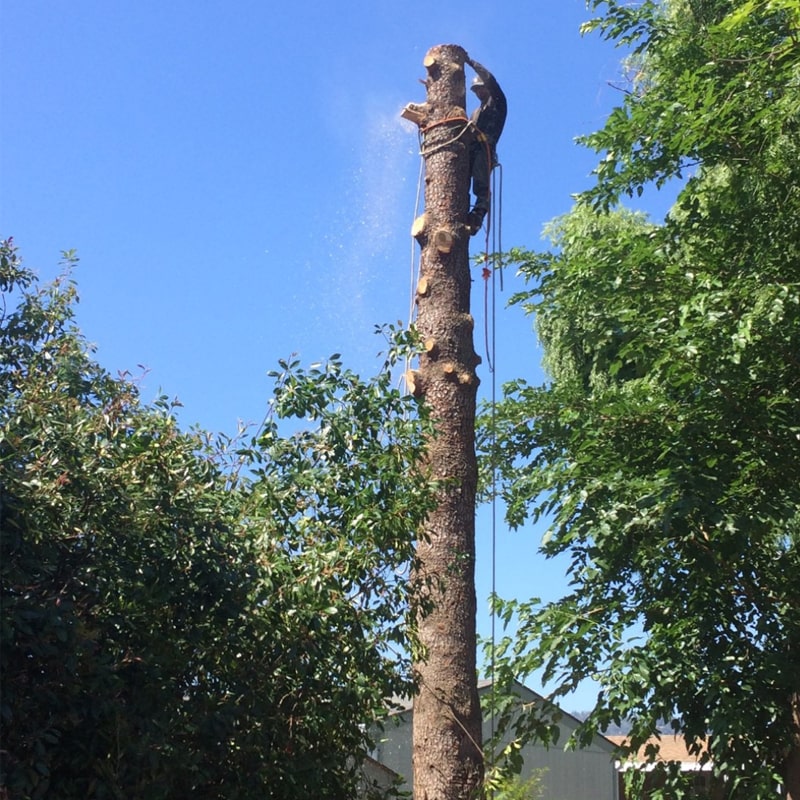 Tree services in Medford Oregon
Our tree services company in Medford, Oregon, offers a wide range of services to help you with all your tree needs. We can help you with tree removal, tree trimming, and stump grinding. We also offer a variety of other services, such as tree pruning, tree removal, tree trimming, tree cutting, stump grinding, tree maintenance, and more. No matter your needs, we can help you find the right solution for your situation.
Tree Removal Services In Medford Oregon
Tree removal in Medford Oregon is a vital part of preserving the health, beauty and safety of your property. Whether you have an overgrown tree that needs to be trimmed or removed altogether, we are available to help. Tree trimming can be done safely and efficiently by our experienced professionals who understand how important it is for trees to stay healthy and look good. Our tree cutting service in Medford also provides assistance with hazardous removals as well as pruning and shaping so that trees remain attractive and safe.
Tree Cutting Specialists In Medford Oregon
We offer top-notch tree pruning and removal services from certified arborists who have years of experience operating in the area. Our team has advanced knowledge on proper techniques for cutting and shaping trees to ensure their health and longevity. Plus, we use only high-end tools and equipment to get the job done safely and efficiently.
For those looking for more specialized services, our tree trimming company in Medford Oregon might be just what you need. Our tree service offers comprehensive solutions designed to fit any budget or time frame – from simple hedge trimmings to complete landscape design projects! Our team also provides advice on how best to maintain your trees so they stay healthy throughout the year.
Stump Grinding Solutions
Stump grinding involves removing tree stumps and roots from the ground, so they won't cause any further damage to your property or hinder other growth. We can provide efficient, effective solutions for all types of tree maintenance needs including pruning, trimming and even complete tree removal if necessary.
Tree Care Professionals in Medford Oregon
When it comes to tree care in Medford, Oregon, hiring our professionals is the only way to go. Our arborists and arboriculture specialists provide a range of services from tree trimming and pruning to root system management. When trees become overgrown they can cause a lot of damage if not properly maintained by an experienced professional. That's why it is so important to choose our qualified arborists in Medford, Oregon for your tree service needs.
Our arborists specialize in assessing potential risks posed by large trees on properties as well as providing advice about proper pruning techniques that can help promote healthy growth and reduce the chances of disease or other problems later on down the road. Tree trimming services provided by our experts also help maintain property values while preserving the beauty of mature trees.
Hiring a knowledgeable arborist with experience in tree care will ensure that your Medford Oregon landscape remains beautiful and safe for many years to come.
Pruning And Shaping Experts
Pruning and shaping experts are essential for maintaining healthy trees. Our tree trimming service near you will be able to provide all your pruning needs including crown lifting, dead or dying branch removal, thinning canopy and even root pruning. For larger projects such as removing entire branches or trees contact our certified tree specialists in Medford Oregon with the experience in large-scale operations.
Professional Tree Surgeons
Finding a reliable tree service in Medford, Oregon is essential when it comes to ensuring your trees remain healthy and beautiful. Our professional tree surgeons can provide the right services for any sized job, from large-scale removal projects to simple pruning jobs
Whether you need routine maintenance on existing trees or require complete removal services due to damage, hiring our qualified company offering comprehensive tree service in Medford, Oregon ensures the job gets done correctly the first time – leaving you free enjoy your outdoor space worry-free.
Benefits Of Hiring a Local Tree Service Company in Medford
Hiring our local tree service company has numerous benefits. First, we are familiar with the area and understand the local climate and soil conditions. This knowledge helps us to provide better services, as we can accurately identify potential problems and create solutions tailored for your specific needs. Additionally, since our company is based in the area, our response time is usually faster than those of out-of-town competitors. We also have access to specialized equipment that may not be available elsewhere.
Another benefit of hiring our local tree service is the personal touch we bring to each job. Not only do you get experienced professionals who know exactly what needs to be done, but you'll also enjoy interacting with friendly staff that understands your particular situation and goals.
Overall, hiring a reliable tree service provider near you makes sense if you want reliable results on time without complications along the way. It gives homeowners peace of mind knowing that their trees are being cared for properly while providing convenience at affordable prices compared to other options further away from home.
Why choose our Medford Tree Service Company?
We are Medford Oregon's most experienced and qualified tree service company. We have been in business for over a decade and have completed thousands of projects. We are fully insured and bonded, and our employees are all certified arborists. We offer a free consultation to assess your needs and provide you with a proposal. We are committed to providing the highest quality tree care services at the most competitive prices.