Fully

licensed

and

bonded

commercial

and

residential

tree

service

company
While trees provide fresh air, shade, and beautiful views for your family, they do require maintenance and care to keep them fit and healthy.
When selecting a tree service company to tend to your needs, you want one that is skilled and professional.
ArborTech tree service has been dedicated to providing Rogue Valley area with quality work, with over 16 years of experience.
Call us today for your free assesment.
We offer a variety of services. Including tree removal, tree trimming, Stump grinding, Bush trimming, Bush removal, and BlackBerry removal.
Tree removal is a common service requested. This involves removing the entire tree. Tree removal is typically necessary When a tree is dead, diseased, or poses a safety hazard.

Tree trimming is another service offered. Tree trimming includes removing branches in order to improve appearance, or to reduce the risk of damage from falling branches.

Stump grinding is a service we offer after a tree has been removed. Stump grinding Involves using a machine to grind away the remaining stump. This leaves the area Where the stump was located looking much neater and decreases the chances of trip hazard.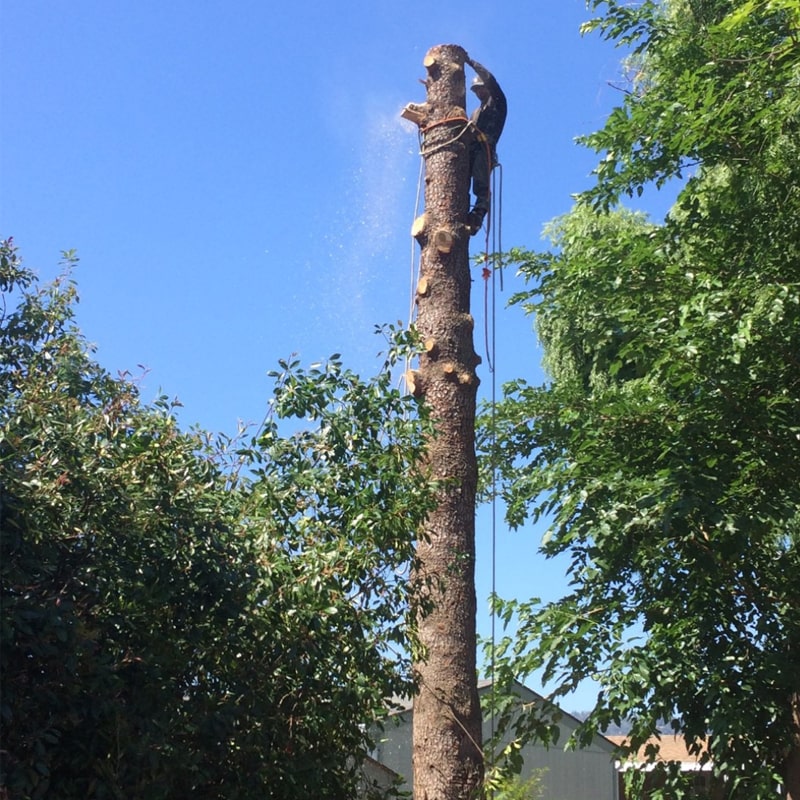 All
Before and After
Tree Services
WHAT OUR CUSTOMERS SAY ABOUT US:
Wonderful family run business! These guys were top notch. They had the our 100 foot sugar pine tree down in less that four hours. They cut the rounds to our asking length, stacked them, and removed everything else. The whole team was professional and super nice. I would highly recommend this company to anyone looking for tree removal.
Arbor Tech Tree Service was incredible. They took down two large trees and large branches that were hanging over my yard from the city side. They finished in 3 hours and were extremely efficient and safe. They also gave me the best price out of any other tree service. I will definitely be calling Greg and his team again when we need more trees out or trimmed.
Greg and his crew provide outstanding service. Having worked in this industry, I can say that I am truly impressed. I admire the work ethic, the top-notch communication, the professionalism and knowledge of the crew, and the unbelievable value. If you're looking for tree service, look no further. Give Greg a call, and you will be satisfied, appreciative, and treated very well. You will get far more than you pay for. Thank you, Greg and crew!!!!
Used Arbor Tech twice so far. These guys are fantastic. I had a very large tree very close to the house that they removed. Left the area very tidy after. I will be recommending them to anyone who asks me. I got extra business cards to pass around, too.
Greg and his crew were fantastic! They arrived early. We had 3 trees removed. Two of them were very large. They had all three trees, the Stump and cleaned up in 6 hours. They had to come back the next day to finish cutting the trunks into rounds and cleaned up again in about an hour. I would recommend them for all your tree needs
This crew was really great and we weren't the easiest customers. They arrived early and when we adjusted our work order, the lead tech accommodated us without hesitation. The took out a 40' oak tree and then groomed additional trees. Really pleased with their work. Highly recommend this crew.